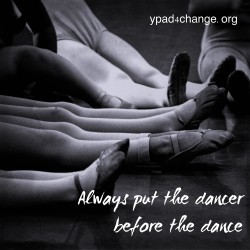 When entrusted with youth dancers, the first rule must be this: Do no harm.
As someone who loves dance, I feel profoundly sad when I see greed, ego and destructive behaviors infecting the dance world… especially when that world involves children. Unfortunately, this is now the reality in some youth dance circles, where the drive for instant fame, youtube hits and competition trophies trumps creative movement and the right to a healthy and safe dance education. In this world, children are being taught increasingly sexualized dance moves to explicit and sexually suggestive music. Girls as young as nine perform at dance competitions in padded bras masquerading as "costumes." And while some people might think it's cute when children twerk, lick their lips or pat their private parts as part of a dance routine, the research is clear: there are dangerous consequences when children and teens are sexually packaged in the dance environment.

To Read Full Blog Article, click link below.